Spanish cooking
Do you want to improve your Spanish while you learn how to cook typical dishes with professional Spanish speaking chefs?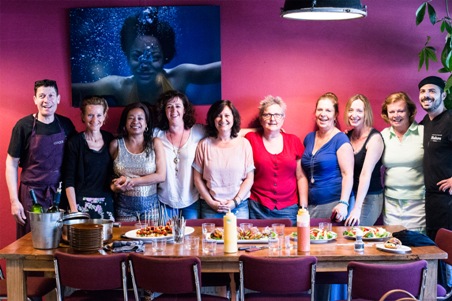 Workshops 2018-2019
04/11/2018: Peruvian cooking workshop 
17/02/2019: Mexican cooking workshop
19/05/2019: Argentinian cooking workshop
What can you expect?
The Spanish cooking workshop takes place on a Sunday. It begins with games to learn useful vocabulary for the workshop, get familiar with the dishes we are going to cook, and learn fun facts related to the country and its gastronomy. After we cook in teams 3 dishes under the instructions of the chefs. Pay attention because the best cooking team according to the chef gets a special prize! We finally eat all together the delicious dishes with a good glass of wine or a typical drink. ¡Buen provecho! = Bon appétit!
Included in the price:
Booklet with all the information about the region and the recipes we cooked.
3 dishes
1 typical drink 
Place: Sarphatistraat 554
Time: Sunday from 12.00h until 15.00h
Number of participants: 5-8
Price: €50.